Seniors Graduation and General Information
Class of 2023!
Graduation will be held on the evening of Thursday, June 1st, 2023.
Students: Arrive no later than 6:15pm for line-up. If rain is forecasted, graduation will be held indoors on the same date. PLEASE NOTE: There can be NO spike heels on the field turf. "Wedges" or flat shoes are allowed, but no thin high heels as it will damage the turf.
SEATING for Guests: There will be a number of chairs on the turf behind the student/graduate section. Guests are welcome to sit there, including a section of handicapped seating. The bleachers are also an option for guests.
GRADUATION TICKETS: Students will receive 7 tickets during the mandatory graduation rehearsal on 5/31. (Rehearsal is on the stadium field right after the senior luncheon in the cafeteria. **If more than 7 tickets are desired, students should reach out to fellow graduates who will not need 7 tickets. At the end of rehearsal on 5/31, we will request that any unneeded tickets be returned to the school, and graduates may request more first-come, first-served.
If you missed cap and gown pickup days, please see Mrs. Tompoles in the main office!
**You can still order Graduation Announcements and other Senior Products online at HerffJonesIL.com or by calling Herff Jones at 815-756-4743.
Senior Luncheon:

Donate: If your family would like to contribute to the Senior Luncheon, happening on 5/31/23 at 12:30pm, please click here!
Senior Photo Slideshow: In order to make the senior slideshow at the luncheon a success, we need parents and guardians to send in a current photograph of their graduating senior, along with a picture of the graduate from childhood. All pictures need to be received by May 12th. Please send them as soon as possible to this link, as we would love to have a picture of every graduating senior!
Lawn Signs:
Check out the website below to get a GNHS SENIOR sign for your yard! https://www.customlawnsign.com/grayslake-north-hs
Senior Portraits:
You can have your portrait taken by making an appointment at Total Image Photographics by calling 847-223-5900 for professional senior portraits. The deadline to have portraits included in the yearbook was Dec 23rd.
Graduation Photos:
Total Image Photographics will be taking pictures at the graduation ceremony as the Class of 2023 receives their diplomas! Photos will be available for purchase one week later at www.totalimagephotographics.com. Question? Please call 847-223-5900
Senior Tribute Ad in the Yearbook
Senior Dedications are a popular feature in the senior class section of the GNHS yearbook. This is an opportunity for parents of seniors to submit a baby, childhood, or early high school picture of their child, reflect upon the past, and convey some words of advice for the future. Order your Senior Tribute Ad Here.

To design and order your dedication, go to www.yearbookordercenter.com, enter job number 8332, and click "Buy A Yearbook Ad." Senior Dedication Ads are $40.00
UPCOMING EVENTS:
Don't miss out on some great opportunities for SENIORS before the end of the school year!
1. SENIOR YARD SIGNS: Check out this website below to purchase a senior sign for your yard! You are only a SENIOR once!
2. PRE-SALE for SENIOR GRADUATION ITEMS: Please take a look at our selection of items here! All online orders will be available for pickup on site the day of the graduation (June 1st). To retrieve your order, please stop by our booth located conveniently at the entrance to the graduation before the ceremony begins.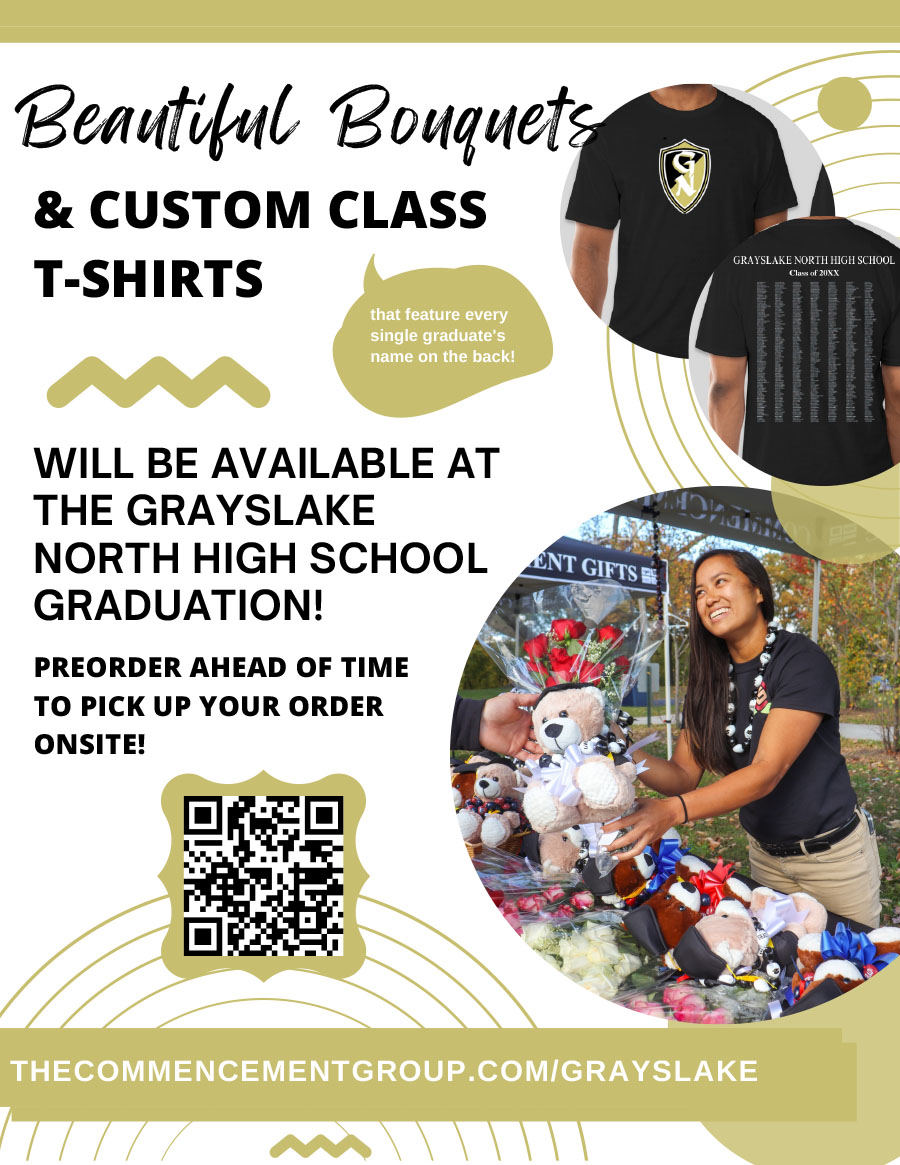 Senior Athletic Banquet is May 18, 2023
Senior Sunset and Movie: Thursday, May 25th 7pm-8pm, 8:30 High School Musical 3. Bring a blanket or lawn chair. Cookies and popcorn will be provided.